Property maintenance should be a top priority in the overall operation of your building. It is critical to maintain the property and building systems so they are running in peak condition and you can avoid costly, bigger issues in the future. Property maintenance covers several key areas of your building. Chemsearch FE has created a free downloadable checklist to get you started on your customized plan. Some of the key areas we suggest starting with are:
Building systems
Check and service HVAC and electrical systems to make sure they are running properly.
Get a comprehensive HVAC maintenance checklist here.
Safety check
Check high traffic areas for potential slips, trips and falls. Also make sure all safety systems such as alarms and smoke detectors are in working order.
Interior and exterior fixtures
Look for broken windows or cracked seals. Inspect your foundation and surrounding sidewalks and steps for large holes and cracks. Don't forget to also check your indoor emergency stairwells, and often overlooked area if not regularly used.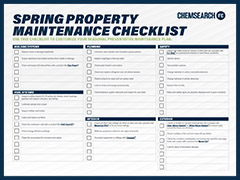 Please follow, share, and like us: