Good boiler blowdown control is a critical part of the overall water treatment program. Scale or sludge can insulate the waterside heating surfaces to the point of metal failure due to overheating. Deposits also reduce heat transfer efficiency and increase fuel requirements. Carryover of the boiler water into the steam can cause poor steam quality, process contamination and deposits in non- return and other control valves. Too much blowdown increases fuel, water and treatment chemical requirements. The amount and frequency of blowdown differs for each boiler system. This should be determined by consulting with your Chemsearch FE water treatment professional.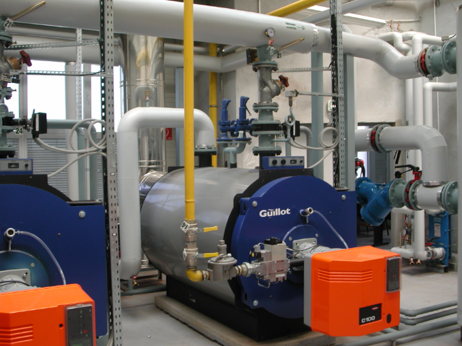 A boiler blowdown is the removal of a portion of the concentrated boiler water and is used to:
Control the dissolved and suspended solids levels, within the range specified by the water treatment supplier, to minimize deposits and carryover.
Remove any sludge or other solid matter that may accumulate in the boiler.
There are two main types of blowdowns. A bottom or mud drum blowdown is typically done intermittently or at least once per shift. These blowdowns remove any sediment or sludge accumulated at the bottom of the boiler and bring them back to a desired solids level. The second type is the surface blowdown, which either is used to continuously or intermittently keep solids at the correct level.
The boiler manufacturer's recommendations on blowdown procedures should always be strictly adhered to. The use of continuous or automatic surface blowdown does not eliminate the need for regular bottom blowdowns or the need to regularly check and blowdown the low water level controls as specified by the boiler manufacturer. Water wall header blowdowns on water tube boilers should be operated in strict accordance with the manufacturer's recommendations. Water wall headers are normally NOT blown down while the boiler is producing steam. Otherwise, water starvation can occur, resulting in water wall tube overheating and failure. A blowdown is usually done when the boiler is taken out of service or is banked, requiring close monitoring of water levels.
The payback of optimized blowdown control and improved treatment programs can be rapid. Our water treatment professionals at Chemsearch FE can help you create a program to manage your water systems. If you'd like to meet with one of our resource management experts, please click here and we will get someone in touch with you soon!
Please follow, share, and like us: