Tessa is an Account manager working in the Oakland, CA territory. She was born in Denver and lived in Colorado during her early childhood years. When she was 8 years old, she moved to California and has lived all over Northern California since then. Although her family moved a lot when she was younger, she says it has helped shape who she is today, affording her useful skills such as being comfortable meeting new people.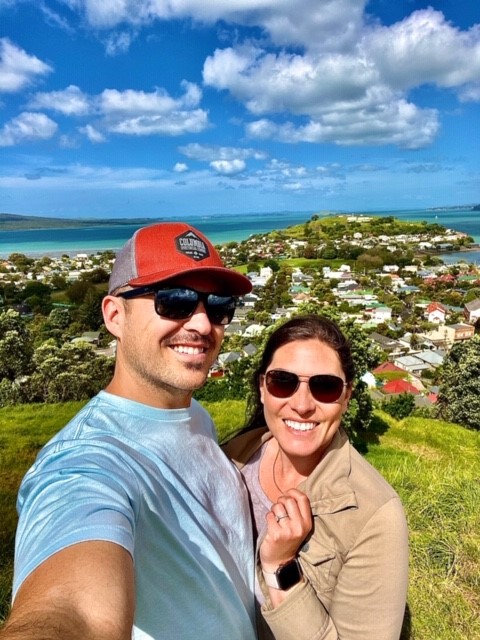 She has been living in the San Francisco Bay Area for about three and a half years now with her husband, Tyson, and their dog, Sadie. They currently live in Alameda, a small island in the Bay Area, where they have all had to adjust to a smaller, lucky-to-have-a-parking-spot kind of lifestyle that comes with living in a city. Both Tessa and her husband's families live in or around the Sacramento area, which is where they both lived before relocating to the Bay Area. They are happy to call the Bay Area home, as it's a place with endless natural beauty, plenty of activities and phenomenal weather all while being close to the mountains for skiing and their families.
Tessa says she is very fortunate to be surrounded by wonderful family members on both sides, and they have amazing friends that they also consider family. They have a group of friends that take an annual ski trip to Vail, Colorado, which is always a blast. Another group of friends are their exploring companions, where they try to pick new places (cities, national parks, states, etc.) that they haven't been to and travel together once a year. Tessa and Tyson just welcomed a beautiful niece into the world last month, which is a reminder to them of how important it is to spend time with family and how lucky they are to have a healthy growing family.
Tessa and Tyson love to cook at home, and they are always looking for new challenging dishes to make from scratch. Tessa considers herself an avid baker and enjoys making new things. Besides baking, cooking, traveling, and exploring, she really enjoys anything crafty. Crafts of all different kinds; if she can paint it, glue it, stitch it, built it or sew it, then count her in. She is also a movie buff and is determined to have her husband enjoy the classics and must-sees with her… it's a work in progress.
How does working for Chemsearch FE align with your life goals?
I've always enjoyed meeting new people, connecting and learning more about them and hearing stories. At Chemsearch FE, the lifestyle is exactly that, the connections and how we can make a small or large impact on each other's lives. What I appreciate most working at Chemsearch is the work-life balance, and honestly that it's not just something that's said. There truly is the ability to have a flexible work-life balance while still being able to achieve goals however big I may set for myself.
Where were you (job or industry) before joining Chemsearch FE?
I was in the food industry during my college years and transitioned to a career with Coca-Cola after graduating. During my tenure with Coke, I was able to achieve success in the company starting out as a sales representative, quickly climbing into management, and then into large account development. I can contribute success here at Chemsearch to the lessons and skills learned with Coke and even in the food industry.
What do you feel is your biggest accomplishment so far in your career with Chemsearch FE?
My biggest accomplishment thus far is building my business and completing the goals I set for myself within the first year. There was, of course, a lot of learning and growing, but I've been able to build a successful career that has put me in a great position setting me up for continued future success.
What are the most rewarding parts of your job?
The most rewarding parts of my day are starting off with a good cup of coffee and heading out to meet new people and make new connections. When I'm able to connect with a client, I try to create an environment that's filled with a little bit of work and a lot of talking and sharing life stores. These moments with customers are a way for them to take a quick break from the daily grind, which I like seeing them enjoy; at least I hope they enjoy it as much as I do.
What do you consider a fulfilling workday?
A fulfilling workday to me is building a deeper connection with my customers while trying to help them solve real problems. I'm a firm believer that being upfront and honest with each client goes much further than just trying to sell a product, and I've had great success sticking to this motto.
Tessa's manager, Steve, shares his experience working with Tessa:
Working with Tessa is an absolute joy. Tessa is the type of team member, as a manager, that you want on your team. She is coachable and open to new experiences and techniques. When confronted with something new, she quickly gets comfortable being uncomfortable. She is a leader and someone I rely on to lead the team from the account manager's perspective on What's App discussions and on group Zoom calls.
Tessa quickly grasps new concepts and her knowledge of our products allows her to communicate effectively at discovering the customers' needs and offering solutions. But her real strength is in developing and nurturing great relationships with her customers.
Tessa's customers absolutely love her. Tessa's interpersonal and relationship skills are next level, which has enabled her to quickly establish a bond and trust with her customers. When working with her in the field, I am often pulled aside by her customers and told how much they like and appreciate Tessa.
Please follow, share, and like us: