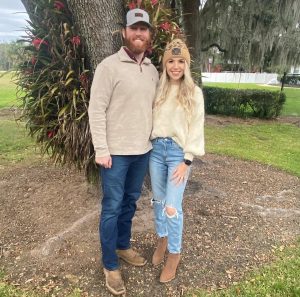 Aleceia is an account manager working in Orlando, FL. She is originally from Plant City, FL, a small town near Tampa, and moved to Orlando five years ago to finish her degree at UCF. She loves to play board games and cards with her friends and family, as they are all very competitive and love some friendly competition. She also enjoys spending time with her husband, doing pilates, and shopping.
How does working for Chemsearch FE align with your life goals?
Working for Chemsearch FE aligns with my life goals by having high family values, a good work-life balance, with a great support system that will be there to help me whenever they can, whether that be helping me progress career-wise or as a person.
How did you end up at Chemsearch FE?
A recruiter reached out to me on LinkedIn about the opportunity, it sounded intriguing so I asked for more information. One thing led to another and now I've been here for just over 2 years!
What do you feel is your biggest accomplishment so far in your career with Chemsearch FE?
I feel like the biggest accomplishment so far in my career has been making it to a Key Account Manager role, as it is a big step for me to continue to grow into a bigger role to help others.
What are the most rewarding parts of your job?
The most rewarding part of my job is when people who doubt our products at first become my best customers and send me referrals to other businesses.
What do you consider a fulfilling workday?
I consider a fulfilling workday to be when all of my appointments follow through and I'm able to have some success at each call as well as solve my customer's issues.
What is the best piece of advice you have received?
"A bad day doesn't make it a bad week and a bad week doesn't make it a bad month" – Matt Branch told me that awhile back and it helps keep me going when I get in those tough spots.
What is a piece of advice you would give?
Always celebrate the small wins because whenever you get into a tough spot they really help keep you in a good mind space.
Please follow, share, and like us: