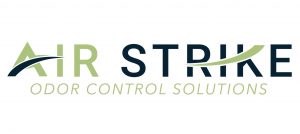 Our goal at Chemsearch FE is to partner with our customers in a way that positively impacts their facility resources. We aim to be the go-to provider for our customers unique needs within their buildings, offering a full array of products and solutions that position us to be their partner of choice.
With that in mind, we have been vigorously expanding our odor control product line with new and innovative products and equipment that will help eliminate embarrassing odors and promote a clean and healthy facility environment. So, we're excited to announce our newest brand. Introducing Air Strike – Odor Control Solutions.
Air Strike supports our mission by addressing a key component of facility resource management—providing sustainable air and odor solutions that promote a clean, healthy image and experience to anyone who walks into that facility. Through this branding, we show our commitment to this effort. We want to be the most trusted source for odor and air solutions and assist our customers in maintaining a building that anyone would be proud to live, work or learn in.
We are excited to bring our Air Strike product line to your facility. If you'd like to further discuss odor control solutions with one of our resource management experts, please click here and we will get someone in touch with you soon!
Please follow, share, and like us: